Principles of Sound Insulation
Sound will travel through buildings predominately in two ways, Airbourne Noise (DnT,w) and Impact Noise (LnT,w). In order to comply with Building Regulations this passage of sound must be controlled, such that the level of noise does not exceed the accepted guidelines.
Performance Standards - Approved Document E 2003 Edition

Airbourne and Impact noise reductions can be actioned in two ways:
A) Airbourne sound transferred can be reduced by the mass of the floor construction.
B) The Impact sound transferred can be reduced by separating the impact from the superstructure of the dwelling by means of a floating or resilient layer.
Poor design, bad workmanship and inadequate building materials are some of the attributes in causing poor sound attenuation and flanking problems.
Sound Path in Dwellings
1: Airborne sound causing floors to vibrate, radiating sound into the receiving room.
2: Sound flanking past a separating floor.
3: Airborne sound directed into the receiving room through gaps in the sub-floor.
4: Airborne sound from the source room to the receiving room due to poor sound attentuation.
5: Impact sound generated at source room floor surface.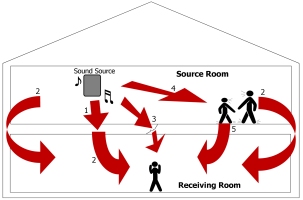 For More Info Please Call Us: 041 984 5652