Acoustic Cradle & Batten System
The cradle system is designed for acoustic applications where the sub-base floor is out of level or has an uneven surface, it can also be a useful medium where elevated floors are required or on ground floor applications in conjunction with thermal insulation to meet the 'U' values in accordance with current Building Regulations.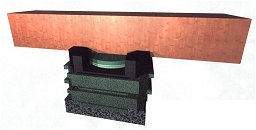 The cradle comprises a high performance rubber base acoustic pad, which clips into a precision injection moulded plastic cradle plate.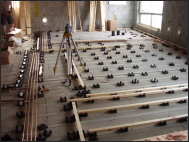 The cradle plate excepts unique 2mm & 5mm circular packers for micro height adjustment which are locked in position by a 25mm up-stand support in each corner, this allows the floor to be laid to a laser levelled datum with a full 20mm height adjustment.

Further height adjustment can be achieved by utilising the clip in macro packer, which can elevate the system in 20mm increments.
The straight-lay acoustic batten system can be used in conjunction with screed finishes or where the sub-base floor has a reasonable level tolerance. The acoustic battens comprise a 1.800 metre length of timber batten with high performance rubber acoustic pads bonded along it's length in equal increments.

In both applications the high performance acoustic sound isolation pads will resist compression under load and provide a continuing level of sound insulation. Acoustic insulation is recommended and will give an improved performance for airborne sound reduction when laid under compression between the batten runs. This application will also help rectify any inadequacies pertaining to poor grouting of the sub-base and help seal weak acoustic passages.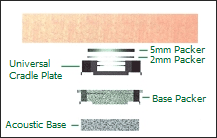 The perimeter edge detail of the flooring system should also be suitably sealed to prevent noise transferral at this juncture whilst still maintaining the required expansion gap between the overlay board and perimeter wall.
See the Floor Finishes available for this system

For More Info Please Call Us: 041 984 5652