Durabella Impact 8 Acoustic Sound Insulation System
Durabella Impact 8 is an ideal solution for sound insulation where low storey height is required. Impact 8 can be used in residential and commerical buildings e.g. hotels, schools and industrial units.
Impact 8 has been specially developed for sound absorption under extreme dynamic or static loads. The re-cycled material remains permanently resilient and resistant to perishing.
Installation
Impact 8 is rolled out & loose laid over the entire screeded subfloor.
The Perimeter edge detail should be insulated by upright strips of Impact 8 to prevent the screed finish making contact with the surrounding walls.
Following the installation of Impact 8, a DPM membrane should be laid prior to the screed application.
Durabella Impact 8 - Technical Data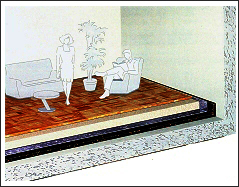 Description
Prefabricated roll material, made from recycled rubber compound bonded with Polyurethane binder.
Application
Applied underneath the entire screed area in dwellings on intermediate solid floor construction as sound insulation layer.
Dimensions
Supplied in rolls 1.250mm wide x 10 metre long x 8mm thick (profiled)
Benefits
No Loss of thickness under extreme dynamic loads
quick installation
reduces storey height
can be fully recycled

For More Info Please Call Us: 041 984 5652